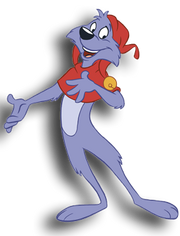 Yoyo is a cartoon character who first appeared as one of the two main protagonists of Simsala Grimm, the other being Doc Croc.
In J&D's ToonWorld series, Yoyo is an ally of Justin Puppy and The S.A.F.T Squad.
Appearance
Edit
Yoyo is a blue tailless coyote who wears a red hooded shoulder piece with yellow bells attached to it. He doesn't seem to have visible ears.
Personality
Edit
Considered the greatest adventurer ever known, Yoyo is adventurous and joyful. He is a good friend, but also kind of nippy and stubborn. He likes to have fun, and loves to help people, but not like the way Doc Croc does. Yoyo mostly decides too quickly, and doesn't like to lose or quit.
Yoyo was named after the yo-yo toy.
Yoyo is J&D's favorite Simsala Grimm character.
In every episode of Simsala Grimm, he often stops Doc Croc from saying all of his professions.