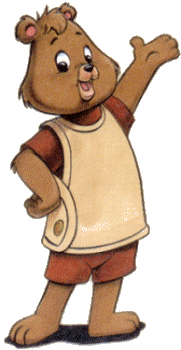 Teddy Ruxpin is a 16-year old Illiop, and the main protagonist of the American/Canadian animated series The Adventures of Teddy Ruxpin, based on the original Teddy Ruxpin doll created by Ken Forsse and Worlds of Wonder. Teddy also frequently appears in the "ToonWorld" series as one of Justin Puppy's allies.
History and Personality
Teddy Ruxpin is kind and friendly, like other Illiops. He loves adventure, meeting new faces, and having new experiences.
Teddy's birthdate is currently unknown, but he was born in the forest of Rilonia, where he was raised in a small hut by his mother. Teddy's father, Burl Ruxpin, disappeared when Teddy was a small child.
In The Adventures of Teddy Ruxpin, Teddy comes to Grundo, along with his best friend Grubby, and a Perloon (human) inventor named Newton Gimmick, following a treasure map in search of the 7 crystals in the Hard to Find City.
In ToonWorld
Teddy's first ToonWorld appearance is in the upcoming ToonWorld All-Stars movie sequel (still in the works), where he and Grubby meet Justin Puppy and his friends, and help them on their quest to stop the E.V.I.L Troop again.
Trivia
Teddy's best friend is an Octopede named Grubby.
Most people do not like Teddy Ruxpin mainly because of his doll being allegedly "scary", but J&D tends to like the cartoon version of Teddy.
J&D claims that he might create his own fan-made crossover team for Teddy, known as the "Ruxpin Renegades". It will consist of mainly characters from lesser-known 1980's cartoons that J&D is a fan of.
Teddy Ruxpin's cartoon, The Adventures of Teddy Ruxpin, is also one of J&D's top favorite cartoons of all time.
Teddy Ruxpin is usually voiced by Phil Baron.