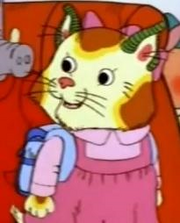 Sally Cat is a character from Richard Scarry's "Busytown". She is
Huckle Cat
's younger sibling, and she is 5 years old. In her early appearances she was known as Little Sister. Sally Cat has red spots in The Busy World of Richard Scarry but she is 6 years old and has orange spots in Busytown Mysteries.
In the Busy World of Richard Scarry, she was voiced by Tara Meyer.
In Richard Scarry's Best Busy People Video Ever, Sally wants to become a travel agent like her mom when she grows up.