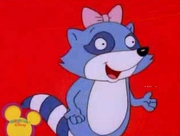 Pinch is an adorable, sweet and young female raccoon who is a friend of Molly Kangaroo in ToonWorld. She originally appeared in the 1998 cartoon "PB&J Otter".
She is the sister of Scootch Raccoon and Champ Raccoon, as well as the cousin to Ricky Raccoon. Her parents are Walter Raccoon and Wanda Raccoon. Pinch currently lives in Lake Hoohaw, but she sometimes likes to hang out at Daisy Gardens.
In ToonWorld, she is best friends with Sunny Funny, Nutsy Koala and Cassie the Dragon.
Appearance
Edit
In the original PB&J Otter cartoon, she wears frilly pink ankle-length socks, black strapped Mary Jane shoes and is almost never seen without her pink bow.
When JustinandDennis redesigned her, Pinch also wears a pink scarf, and a pink skirt. She also has a more visible hair tuft.
Pinch is mostly seen in her redesign in the ToonWorld films, but in the ToonWorld cartoon series, she appears in her original design.
Personality
Edit
Pinch is very much a girly girl and enjoys being so. She likes anything pretty, tea parties, flowers, dresses, lace and the color pink. Pinch has a healthy imagination and likes stories of castles, princesses and adventure.
Pinch is quite often seen together with her little brother, Scootch, though the two are very different. Scootch is very energetic, while Pinch tends to be more laid-back in nature. Still, Pinch often enjoys playing together with her brothers Champ and Scootch when she can.
Community content is available under
CC-BY-SA
unless otherwise noted.