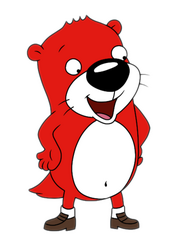 Peanut is a young red otter who is the oldest of the Otter kids, and the older brother of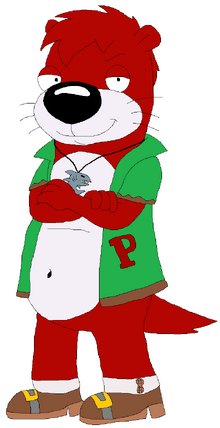 Jelly and Butter Otter. He is also one of the main protagonists of PB&J Otter along with his siblings.
In ToonWorld, he is 17-18 years old, but in PB&J Otter and its revival The New Adventures of PB&J Otter, he is depicted as being 8 years old.
Peanut's current 17-18 year old self is voiced by Vincent Martella (who also voiced Phineas Flynn in Phineas and Ferb), while his younger 8-year old self is voiced by Pierce Gagnon, although he was originally voiced by Adam Rose in the 1998 "PB&J Otter" cartoon.
Appearance
Edit
Peanut is a slightly chubby red otter with a white muzzle with two pairs of whiskers, a black nose, a small hair tuft on his head, and a white belly with a visible bellybutton. As an 8-year old, Peanut doesn't usually wear much clothing, other than white socks and brown loafers. Although his eyes are usually black, they are sometimes shown to be green.
As a 17-18 year old, Peanut now wears a green (unbuttoned) short-sleeved vest with brown trim, white socks with the image of a peanut imprinted on them, brown buckled shoes, and a necklace with a shark pendant around his neck. His hair has grown longer to represent real hair, and has an extra pair of whiskers.
Personality
Edit
Peanut is usually kind and loyal to his fellow companions. He tends to be sarcastic and funny on some occasions. He also displays a high level of intelligence, being able to solve problems on his own. Peanut doesn't like to dance, especially the "Noodle Dance", but usually he changes his mind at the last minute, and joins in anyway.
He is also a fan of the Mallard Man comic books.
Peanut will appear in ToonWorld All-Stars 2, as one of the main tritagonists. He will mostly appear as his 13-14 version, but he also appears as his younger 8-year old self in some of Rayman's dream sequences.
Community content is available under
CC-BY-SA
unless otherwise noted.