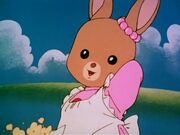 Patty Rabbit is the main protagonist of the anime Maple Town and its sequel Palm Town. At 8 years old, she is the younger sister of Rachel Rabbit and the older sister of Ricky Rabbit and Bunny Rabbit and the daughter of Mama and Papa Rabbit (who are named Christine and Marcel respectively in the Japanese version, with the latter working for the Maple Town Post Office). Her boyfriend is
Bobby Bear
.
She was voiced by Maya Okamoto in the Japanese version, Evelyne Grandjean in the French dub, and Reba West in the English dub.
Appearance
Edit
Patty is a sand-colored rabbit with a cream-colored muzzle, black beady eyes, and a round, pink nose.
In Maple Town, she wears a pink and white dress with frills at the point where the sleeve and the normal part of the dress connect with a red circle between the frilly parts and a pocket on the near bottom right side of the dress with a picture of an orange carrot on it.
She also wears red-pink shoes, but her most distinguished accessory is a pink beaded bracelet surrounding her left ear (referred to as her pink hair accessory in the Japanese theme song).
In Palm Town, she now wears a white dress with pink horizontal and vertical lines forming squares, three heart buttons, a pink ribbon on the waistline, and a bolder pink line on the lower half of the torso.
Her toy counterpart, though, had her barefoot. Also, her inner ears are sand-colored like the rest of her body except for her muzzle, nose, mouth, and eyes and her head is a bit rounder in the figure as well.
Personality
Edit
Patty is mainly a very cheerful and level-headed girl. She is usually kind and helpful to others, but due to her strong hatred for Wilde Wolf, she gets angry and attempts to foil Wilde's plans of causing trouble in the town, whether if the attempts succeed or fail.
Community content is available under
CC-BY-SA
unless otherwise noted.