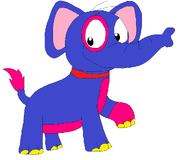 Patch the Elephant is a main character from the series "Wackytown". He is
Archie the Cootie Bug
's pet.
Appearance
Edit
A chubby blue elephant with a hot pink-colored underbelly, left front leg, tail tip, and a hot pink spot on his right eye. He also has yellow nails and a red collar.
Personality
Edit
Patch is an elephant who thinks he's a dog! He sure acts like one too, which is why he has a collar.
More Info
Edit
Likes: going on walks, eating leaves, stuffed plush toys, having his back scratched, sleeping, the dog park, Scooby Doo, mud baths, Satch (from Rude Dog and the Dweebs), fireworks, ice cream, Laser Light shows, and other elephants.
Dislikes/Hates: people making fun of his chubbiness, stomach aches, itchy back, vomiting and/or diarrhea, seeing his friends get hurt, getting sick, and Breadwinners