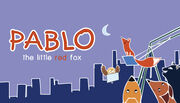 Pablo the Little Red Fox is a British-French animated series which ran from early 1999 to late 1999. The main characters were three fox cub siblings named Pablo, Pumpkin and Poppy, their parents, Rose and Red Fox, a dog named Baxter, a cat named Finbar, a frog called Fromage, a seagull called Gil and an owl named Madam Owl. These characters were best friends.
The action was, unusually for such a program, placed in an (unnamed) urban setting, featuring parks, rubbish tips, gardens and roads.
The graphic style of the cartoons was simple, with intense colors and pale outlines, reminiscent of silk paintings.