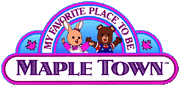 Maple Town
(also known as Maple Town Stories in Japanese) is a 1986 Japanese slice of life anime series created by Chifude Asakura and directed by Junichi Sato. The series is animated by Toei Animation, consisting of 52 half-hour episodes, which aired on TV Asahi in Japan from January 19, 1986 to January 11, 1987. It focuses on the adventures of Patty Rabbit, Bobby Bear, and their families, in a small utopian anthropomorphic city named Maple Town. The series gave way to a 50-episode sequel, New Maple Town Stories: Palm Town Chapter, which made Patty Rabbit (and her voice actor, Maya Okamoto) the only ongoing member from both series, although Maple Town's citizens made cameos from time to time. To date, this has not seen an official English release.
The program spawned collectible figurines with changeable clothing as well as houses, furniture, and vehicles; Tonka was the licensee and manufacturer in the US market.
Patty Hoperabbit, along with her family is soon arriving in Maple Town, a small town inhabited by friendly animals. However due to a train heist by the sly—if usually "endearingly" unsuccessful—thief, Wilde Wolf, he stole the mailbag from her father and made his escape in the forest. Soon she follows after him alone to retrieve the mailbag. In the midst of getting the bag back from the thief, she befriends a boy of her age named Bobby Kumanoff who has the bag. As they both escaped from Wilde Wolf and outwitted him, they deliver the mailbag back safely to her father. Soon, the Rabbit Family made their stay at Maple Town as mail carriers and the bitter, yet sweet friendship of Patty and Bobby begins to blossom. At the same time trying to foil Wilde Wolf's plans.
The series's setting is officially based on Canada around the 1920's, while the setting of Palm Town Chapter is based on the West Coast of the United States.
Characters
Edit
Hoperabbit Family – Patty, Marcel, Christine, Ann and Mick
Kumanoff Family – Bobby, Natasha, Bobby's Father, Kin, Kon and Kan
Conderrick Family – Diana, Hans, Chirine and Freddy
The Cat Family – Mr. Cat and Mrs. Cat
The Dog Family – Danny, Dr. Dog, Mrs. Dog and Donny
The Squirrel Family – Suzie, Squire Squirrel, Mrs. Squirrel and Skippy
The Pig Family – Penny, Mr. Pig, Mrs. Pig and Polly
The Raccoon Family – Ruthie, Mr. Raccoon, Mrs. Raccoon and Roxie
The Mouse Family – Missie, Mr. Mouse, Mrs. Mouse and Marty
The Beaver Family – Bucky, Mr. Beaver, Mrs. Beaver and Bitsy
The Badger Family – Bert, Mr. Badger, Mrs. Badger and Betty
The Mole Family – Maggie, Mr. Mole, Mrs. Mole and Mikey
Kirby Cat
Mayor Dandy Lion
Miss Deer
Sheriff Barney Bulldog
Oscar Otter
Master Monkey
Dr. Goat
Wilde Wolf