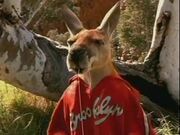 Kangaroo "Jackies Legs" Jack is an anthromorphic kangaroo who first appeared in the 2003 film "Kangaroo Jack" and its 2004 animated sequel "Kangaroo Jack: G'day, USA".
In J&D's ToonWorld series, Jackie Legs usually appears in his animated version, and can sometimes be seen with Skippy Kangaroo.
Kangaroo Jack is a pretty good rapper.
He also has a love for candy.