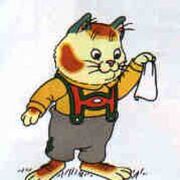 Huckle Cat is the main protagonist of Richard Scarry's "Busytown", as well as the animated cartoon "The Busy World of Richard Scarry". He is 7 years old.
Voice Actors
Edit
Kyle Stanley in Richard Scarry's Best Videos Ever
Sonja Ball in The Busy World of Richard Scarry
Joanne Vannicola in Busytown Mysteries
Appearance
Edit
Huckle Cat has red spots in The Busy World of Richard Scarry, but he is 8 years old and has orange spots in Busytown Mysteries. He wears a yellow shirt with colorful lederhosen on which is a type of Swiss/German/Austrian clothing.
Personality
Edit
Huckle is often shown in the cockpits of planes and flying with Rudolf von Flugel. It is implied that his ambition is to be a pilot when he grows up. (Huck was the nickname for Scarry's son, Richard Scarry Jr.)
Huckle Cat appears as a playable character in ToonWorld Golf.
Huckle will make an appearance in some of the Toontown Unleashed films.