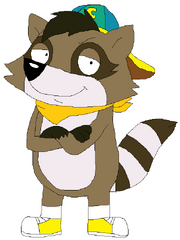 Champ is a young male raccoon who is the older brother of
Pinch Raccoon
and Scootch Raccoon, as well as the cousin to Ricky Raccoon. He first appears in
The New Adventures of PB&J Otter
, but he also occasionally appears in ToonWorld.
Champ is a PB&J Otter OC created by JustinandDennis.
Appearance
Edit
Champ has brown fur, like a real raccoon, but he also has rather messy dark brown hair. He usually wears a green-and-teal backwards cap with a "c" on it, a yellow bandana, and yellow sneakers.
Personality
Edit
Champ loves sports, and he takes it quite seriously too. He is very sporty, and will always be willing to play any sport with his friends. Champ also tends to act spunky and sometimes self-absorbent, but he does have a caring heart. He's not as boastful as Flick, thankfully.
Other Info
Edit
Full Name: Charles "Champ" Raccoon
Age: 7
Species: Raccoon
Gender: Male
Hometown: Lake Hoohaw
Friends: Peanut Otter, Munchy Beaver, Flick Duck, Justin Puppy, Dibsy Fox, Wilma Woodchuck, Lewis Snootie, and Willy Muskrat.
Enemies: Ootsie & Bootsie Snootie (usually), and Wooly Wolverine (his arch-rival in sports).
Parents: Walter (father) and Wanda (mother)
Siblings: Pinch Raccoon (sister) and Scootch Raccoon (brother)
Other Relatives: Ricky Raccoon (cousin)
Likes: Sports (his favorites are soccer and basketball), playing with friends, rock music, hiking, veggies, swimming, being athletic, The Karate Kid (the 1984 version), skateboarding, eating potato chips, and having fun.
Dislikes/Hates: Losing to his rival Wooly, rainy days, breaking his ankle or leg, losing his lucky bandana, seeing his sister sad or upset, his brother crashing into things, and seeing Lewis getting picked on.
Favorite Song: "We Will Rock You" by Queen
Unlike the other raccoon characters in Lake Hoohaw, Champ actually has dark markings on his hands and feet.