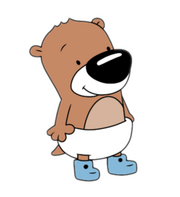 Butter Otter is the youngest of the otter children, and Scootch Raccoon's best friend. She is also one of the three main protagonists of
PB&J Otter,
the other two being her siblings Peanut and Jelly.
In the original PB&J Otter and its revival The New Adventures of PB&J Otter, Butter is two years of age, as evidenced by her diaper. She can often be seen carrying a bottle. She doesn't generally speak in full sentences, but she is pretty articulate for her age and often mimics others' speech.
In ToonWorld, she is now depicted as a 7-year old.
Butter's baby version is voiced by Gina Marie Tortorici, while her older version in ToonWorld is voiced by Tara Strong.
Personality
Edit
Despite being given the choice, Baby Butter would rather participate in "boyish" activities like her brother Peanut, rather than something like attending a tea party with her big sister Jelly and Pinch Raccoon. Though she speaks very little, Butter is kind and friendly in every way. Unlike her brother Peanut, Butter has no issues with doing the "Noodle Dance". She generally happily and quickly joins the dance and often spins around on her bottom during dances.
Butter is the only otter of her family to actually be brown like the real-life otter.
Unlike her brother and sister, she has dots for eyes like Doug, Stanley, and various characters in Jim Jinkins' shows.
Some people often mistake Butter as a boy, when she's actually a girl.