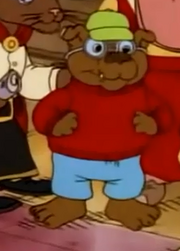 Billy the Dog is a cartoon character who is featured in the cartoon "The Busy World of Richard Scarry". He is about 6 years old, and is good friends with
Huckle Cat
, Hilda Hippo, and Lowly Worm.
Appearance
Edit
Billy is a brown hound dog who usually wears a red sweater, blue jeans and a baseball cap. He later gets glasses.
Personality
Edit
In the Busy World of Richard Scarry, Billy first appeared in the episode "Billy Dog's Bad Day". He appears to be a bully at first, but has a heart of gold.
Billy sometimes makes appearances in J&D's ToonWorld series as a minor character.