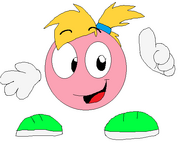 Andy the Electoon is a cartoon character featured in J&D's ToonWorld.
He is a Rayman OC created by JustinandDennis.
Appearance
Edit
Andy is clearly distinguishable from other Electoons because of him being the only male Electoon. He has a slightly darker pink tone, yellow spiked hair which seems to be shorter than a regular Electoon's hair, slightly thicker eyebrows, and he wears green shoes (whereas most Electoons have blue shoes).
Personality
Edit
Andy is a guy who is pretty friendly, and kind of lacks manners, but he's also really brave. He's a good friend of Rayman (character), and has a crush on Misty Electoon.
Andy also loves Sci-fi films and dubstep music.
Other Info
Edit
Age: 13
Species: Electoon
Gender: Male
Hometown: The Dream Forest (Rayman 1 world)
Favorite Characters: Rocket Raccoon, Wolverine, Cyclops (X-Men), Steven, Amethyst, Garnet, Ord, Zak & Wheezy, Devon and Cornwall
Favorite TV Genres: Cartoon, Fantasy, Sci-fi, Adventure
Favorite Season: Fall/Autumn
Favorite Films: The Avengers; Age of Ultron, X-Men 2, Tron, Star Wars, Inception, The Matrix, Guardians of the Galaxy, Iron Man, Quest for Camelot
Favorite TV Shows: Agents of S.H.I.E.L.D, Gravity Falls, Star Wars Rebels, X-Men: The Animated Series, Steven Universe, Dragon Tales
Favorite Video Games: The Legend of Zelda, Pokemon, Fire Emblem, Spore, Skylanders, Star Wars: The Old Republic, XCOM: Enemy Unknown
Favorite Game Consoles: Playstation 1, Xbox 360, NES, Gamecube, and the TOON-Box Quantum
Favorite Holidays: April Fools Day, Christmas, New Years Day, Halloween, Valentine's Day
Favorite Fantasy/Supernatural Creatures: Dragons, Werewolves, Sphinxes, Griffins, Gnomes, Dwarves
Favorite Pokemon: Charizard, Flygon, Salamence, Tyranitar, Latios, Meowth
Favorite Food: Pizza, Hot Dogs, Sandwiches, Fried Chicken, Hamburgers, French Fries, Nachos, Spaghetti, French Toast
Favorite Drinks: Lemonade, fruit punch, Kool-Aid, Chocolate Milk
Favorite Songs: Mr. Roboto, She Blinded Me with Science, One Direction songs, Kickstart My Heart (by Motley Crue), 3 Words, Another One Bites the Dust, Daft Punk songs, Shrillex songs
According to J&D, Andy is perhaps the only male Electoon in existence, as Electoons are usually female.